Continuing with the Scottish theme this month, I am thrilled with this week's topic; Scottish authors. Many of my beloved favorite writers are on the list. So, in chronological order, let's dig in.
William Dunbar (1459-1520) The oldest name I found, Dunbar was a poet working in the court of King James. His works were among the first to be printed in Scotland.
David Hume (1711-1776) While Hume intended to study the law, he never completed the program. With an intense interest in books and philosophy, he became a librarian at the University of Edinburgh. His well-known A Treatise of Human Nature took him four years to complete. His greatest success, however, was the two-volume History of Great Britain.
Robert Burns (1759-1796) One of the more well-known early writers, Burns was part of the Romantic movement and one of the first who explored themes of emotion and individualism. He was raised on a farm and later in life turned his hand again to farming without success, unlike his songs and poems. His most known works are Scots Wha Hae, Auld Lang Syne, To a Mouse, and A Man's a Man. If you've ever attended a Burn's Supper, these will be familiar.
Sir Walter Scott (1771-1832) Following in his father's steps as a writer, Scott continued his education at the University of Edinburgh, receiving a degree in literature. He later furthered his education there with a degree in law. With the threat of a French invasion, Scott joined the Royal Edinburgh Volunteer Light Dragoons. His works consisted of Ivanhoe, Waverley, Rob Roy, The Lady of the Lake, Kenilworth, The Talisman, Guy Mannering, The Bride of Lammermoor, Woodstock, and The Fortunes of Nigel. I studied many of these in literature courses.
J.M. Ballantyne (1825-1892) Starting life as an artist, Ballantyne wrote over one hundred novels, mainly adventure stories for youth. Though not one to travel, he wrote stories set all over the world. His novel, The Coral Island, became famous as the novel on which William Golding's Lord of the Flies was based.
Robert Louis Stevenson (1850-1894) Coming from an engineering family, Stevenson veered toward art and writing. He studied the law for a time, though he never practiced. Spending his life traveling, he set many of his tales and poems in exotic locations. His best-known works are Treasure Island, Kidnapped, and Strange Case of Dr. Jekyll and Mr. Hyde. His A Child's Garden of Verses is one I remember from my childhood.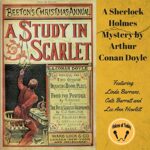 Arthur Conan Doyle (1859-1930) As a mystery enthusiast, of course, he's one of my favorites. My children and I even went to find 221B Baker Street. A surgeon and medical officer, it is no surprise that all but four of his stories are written in the first-person viewpoint of Dr. Watson, a friend of the detective Sherlock Holmes. Following the success of A Study of Scarlet (1887), many of the subsequent stories were first printed in magazines.
Kenneth Grahame (1859-1932) Outside of J. K. Rowling, Grahame's The Wind in the Willows has sold more copies than any other Scottish writer. His masterpiece, which has long been a favorite of mine, has been adapted for stage, film, and television.
J.M. Barrie (1860-1937) Despite his family's desire for him to enter the ministry, Barrie's first love was writing. He agreed to study the ministry if he could also take literary courses. His first job afterward, however, was as a journalist. He is most known for his classic Peter Pan or The Boy Who Wouldn't Grow Up, one of my childhood favorites.
John Buchan (1875-1940) Besides being a historian and Governor-General of Canada, he found time to write several novels most notably, The Thirty-nine Steps, a classic in the spy genre.
Compton MacKenzie (1883-1972) Initially a commentator on cultural matters, he is more widely known for the classics Monarch of the Glen and Whisky Galore.
AJ Cronin (1896-1981) Another doctor amongst the ranks, his The Citadel exposed inequities in medical care and addressed medical ethics. The controversial book led to much debate and the eventual establishment of the National Health Service.
Gavin Maxwell (1914-1969) This is an author I am not familiar with, but according to many listings, every child who grew up in the British school system will have read his Ring of Bright Water. A naturalist, he wrote many books about otters. I need to read these.
Muriel Spark (1918-2006) Her classic novel, The Prime of Miss Jean Brodie was made into a movie starring Maggie Smith.
Alistair MacLean (1922-1987) Widely recognized for his adventure novels, many have been made into films, such as The Guns of Navarone, Ice Station Zebra, and Where Eagles Dare. Worn copies of each of these sit on my husband's bookcase.
Alexander McCall Smith (1948-) Smith is best known for his popular The #1 Ladies' Detective Agency series. Set in Botswana, the series currently numbers twenty-two.
Iain Banks (1954-2013) Banks began writing science fiction as a child, but it wasn't until the more mainstream publication of The Wasp Factory (1984) that he was published and gained recognition.
Carol Ann Duffy (1955-) She began writing at a young age and at fifteen, her first poems were published. In 2009, she was the first woman, first Scottish poet, and first LGBT poet to hold the position of Britain's Poet Laureate.
Val McDermid (1955-) is one of the biggest names in crime fiction. Wire in the Blood, her series featuring Dr. Tony Hill, clinical psychologist, has created a sub-genre known as Tartan Noir.
Ian Rankin (1960-) Rankin quickly rose to fame as Scotland's chief writer of detective fiction. His Inspector Rebus is listed amongst the top ranks of fictional detectives and has been portrayed many times on television.
Louise Welsh (1965-) She quickly gained fame when her first novel, The Cutting Room won the Crime Writers' Association John Creasey New Bloody Dagger award. She followed with award winners A Lovely Way to Burn and Death is a Welcome Guest.
J. K. Rowling (1965-) Last but certainly not least, Rowling has written novels for adults as well as her critically acclaimed and highly popular Harry Potter series. At this point, she is the richest and highest-ranked best-seller, beating out even the likes of Stephen King.
Well, that is certainly an impressive list. It is by no means complete, there are many others out there. I hope you recognized some favorites and possibly found some want-to-reads in this list.
Happy reading!