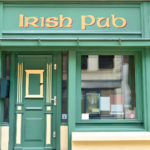 One of my favorite things to do visiting Dublin is to go on a Literary Pub Crawl. I've done it twice and had so much fun. Though I learned the trick is to order a half-pint in each pub! So, with those fond memories, I dedicate this article in my Irish Month series to Irish writers. Here are some top ten well-known Irish authors. I am not numbering them as they are in no particular order, nor is this list exclusive.
James Joyce is probably the first one that pops into most people's minds. The most famous of his works is Ulysses, based on a day in the life of Leopold Bloom in Dublin on 16 June 1904. Roughly paralleling a mundane version of Homer's Odyssey, this date has become a literary holiday in Dublin. The first recorded Bloomsday Festival was on 16 June 1924. For a slice of life look at Dublin in the early 1900s, check out his Dubliners, a collection of short stories.
Oscar Wilde is almost as well-known as Joyce; Wilde came from an aristocratic family and was well educated. Known for his flamboyant lifestyle, his works are filled with biting wit and satire. His Importance of Being Ernest is one of my favorite plays. The Picture of Dorian Gray remains relevant today.
W. B. Yeats was a brilliant poet and politician. He was the first Irishman to win a Nobel Prize for literature with his commentary on Irish politics. His childhood in Sligo and his unsuccessful love life were often themes of his poems.
Roddy Doyle is a contemporary best-selling novelist. I don't want all of this list to be limited to older works. His Barrytown Trilogy features the ups and downs of a working-class Dublin family. These books have been made into films.
Bram Stoker is best known for Dracula. He studied at Trinity College and started life as a theatre critic. Put aside all the preconceived vampire stereotypes and enjoy this chilling suspense story.
Maeve Binchy is one of my favorite modern writers, and I love her descriptive characters. The novels are set in small-town Ireland and often have surprise endings. I loved Circle of Friends, Scarlet Feather, and Tara Road.
Jonathan Swift is the oldest on the list (1667). A writer, poet, and cleric, Swift is well known for Gulliver's Travels. Often regarded as a children's book, the story is actually fairly complex and full of metaphors and is a parody of human nature.
Samuel Beckett was a 20th-century playwright whose work is often a dark reflection of human nature. As a theatre student, I studied his Waiting for Godot, a play where two characters wait for Godot, who never shows up. The class consisted of debates over the play's meaning and how to reflect that in the stage design.
C. S. Lewis is often considered British. He was born in Belfast and considered himself Irish. His classic The Chronicles of Narnia is a must-read for all ages. The seven novels have been translated into over 40 languages.
Ok, so I said the top ten, but after starting this and perusing lists online, I must name several other favorites, so #10 is a list.  As I have a theatre background, you may notice many of these, but not all, are playwrights.
William Congreve, Oliver Goldsmith, Richard Sheridan, George Bernard Shaw, J.M. Synge, Sean O'Casey, Brendan Behan, Seamus Heaney, and Frank McCourt (I cried through Angela's Ashes).
As the Irish are always ready with a good story, there are so many others. Who are your favorites?