Well, here it is, Week 5 of Irish month. Little did I know, when I decided to focus on the arts, how little I knew about Irish artists. As you may have seen in last week's post, I am more familiar with authors and playwrights. So I suppose wrapping up Irish month with artists allows me to learn more about them. I am not familiar enough with them to do them justice, so I present the more commonly listed artists in chronological order.
Charles Jervas (c. 1675-1739) was an art collector who painted portraits that were in much demand. Born in Dublin, he was Dean of St Patrick's in 1713. One of his most known works is his portrait of Jonathan Swift, author, and satirist.
Hugh Douglas Hamilton (1739-1808) Born in Dublin, he is known for his oval pastel portraits. Later living in Rome, he turned to oils and created a series of paintings which included Charles Edward Stuart, The Young Pretender.
James Barry (1741-1806) While on a Continental visit with the writer Edmund Burke, he emulated the Renaissance masters to paint elevated subjects with moral messages.
Daniel Maclise (1806-1870) was born in Cork. Most known for his historical work, he painted murals in the House of Lords, notably Meeting of Wellington and Blucher at Waterloo and the Death of Nelson at Trafalgar.
Joseph Malachy Kavanagh (1856-1918) studied under Verlat in Antwerp and is noted for his landscapes. Unfortunately, his studio and paintings were burned during the Easter Rising in 1916. He was the keeper of the Royal Hibernian Academy.
Sir John Lavery (1856-1941) was born in Kilkenny and is best known for his portraits and war scenes of WWI.
Walter Frederick Osborne (1859-1903) is known for his impressionistic look at the everyday life of Dubliners. He also studied in Antwerp under Verlat. He died at the age of 43.
Roderic O'Conor (1860-1940) also studied in Antwerp but moved to Paris. He was influenced by Gauguin and Van Gogh, using non-naturalistic brushwork and bold colors—and was considered a pioneer in Post-Impressionism.
Sarah Cecilia Harrison (1863-1941) joined the fight for women's rights and social reform. She was the first woman elected to the Dublin City Council. Her works include a portrait of Henry McCracken, who was hanged in 1798 for his role in the Society of United Irishmen rebellion.
Jack Butler Yeats (1871-1957) This name may sound familiar as I covered his brother William last week. He was involved in the Irish independence movement, which was expressed in his paintings of Celtic mythology. His later works reflect his boyhood in Sligo. Their father, John, was also a painter.
Paul Henry (1876-1958) was born in Belfast. He studied under the American Whistler and is known for his landscapes of western Ireland. He went blind in 1945.
Letitia Marion Hamilton (1878-1964) was born in County Meath. Her work demonstrates elements of Art nouveau. Along with Paul Henry, Grace Henry, Mary Swanzy, and Jack Butler Yeats, she was a founding member of the Society of Dublin Painters.
William Orpen (1878-1931) was born in Dublin. He was a premier portrait artist of his day and worked as a war artist in France during WWI and documented the signing of the peace agreement in Paris.
Mary Swanzy (1882-1978) is one of Ireland's first abstract painters featuring Cubist elements. Fluent in French and German, she was influenced by European art of the early 20th-century. Later in life, she traveled to Hawaii, where she painted tropical flowers and local women.
Margaret Clarke (1888-1961) was born in Newry, County Down. She attended the Dublin Metropolitan School of Art on a scholarship. She was commissioned to paint the portraits of notables such as Dermod O'Brien, Eamon de Valera, Archbishop McQuaid, and Lennox Robinson.
Mainie Jellett (1897-1944) was born in Dublin. She studied in Paris and was inspired by the Cubist abstract painting style. She focused on changing the Irish conservative attitudes toward art and died of cancer at a young age.
Nano Reid (1900-1981) was born in Drogheda, County Louth. She specialized in landscapes and portraits. In 1950, she and Norah McGuinness were chosen to represent Ireland in the Venice Biennale, the first Irish artists to do so.
Norah McGuinness (1901-1980) was born in Derry. Before retiring to Ireland, she lived in London, Paris, and New York. She was actively involved in literary and theatrical life and illustrated W.B. Yeats' Stories of Red Hanrahan.
Louis le Brocquy (1916-2012) was born in Dublin. His career spanned over seventy years. He also attended the Venice Biennale, representing Ireland. He is famous for his heads of literary figures and artist such as James Joyce, Samuel Beckett, and Seamus Heaney.
Daniel O'Neill (1920-1974) studied at the Belfast College of Art and took to salvaging and carving wood following the Blitz of Belfast. In the 1950s, he moved to a small artist's colony in County Down.
And not to forget modern artists and other formats, I discovered the following: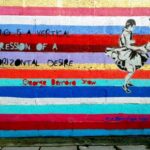 Anna Doran is a muralist known for her work on the buildings of Dublin.
Conor O'Leary, Irish photographer
Maser, a leading Irish street artist whose colorful graffiti art dates from 1995
Duncan Campbell, videographer whose It for Others won the 2014 Turner Prize
I've learned so much from this episode. Do you have a favorite Irish artist?