I have a confession to make. I live in Germany and have never been to Oktoberfest. Shocking, right? We moved here in 2019, and it was on my radar, but we didn't make it that first year. I could make the case that it was shut down in 2020 and 2021 because of covid. True, enough. But it is open again this year, and after two years of missing out, it is drawing larger crowds than usual. I often think I should go, just to say I have been. Box checked.
But while Oktoberfest is the BIG one, beer festivals can be found throughout the country. Every community has at least one each year. And to me, those are more fun. Even our tiny village has several opportunities to eat bratwurst and drink beer each year while mingling with friends and neighbors.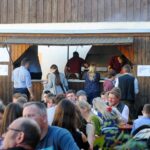 Officially, Oktoberfest only refers to the one held annually in Munich. The event originated with the marriage of the Crown Prince of Bavaria, who later became King Louis 1st, and Princess Therese Sachsen-Hildburghausen on 12 October 1810. The five-day festival ended with a horse race in Therese's Green. For the next few years, the race was a part of a state agricultural fair. Booths serving food and drink were added in 1818.
It wasn't until the 20th century that it developed into the beer festival we know today with temporary halls and bandstands. Each of Munich's brewers constructs these spaces, with seating of up to 6,000 people in each. There are huge parades with beer wagons and floats for the anticipated crowds of over six million people. This year, on 17 September, the Mayor of Munich kicked off the festival with the traditional tapping of the first keg.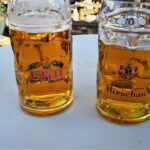 So, here are some fun facts about German beer.
There are three styles: Light beers, dark beers, and wheat beers.
Southern Germany has predominantly small, local breweries, whereas brewing is more centralized in the north.
With roughly 1300 breweries in the country producing 5,000 brands of beer, 50% of them are located in Bavaria.
Weihenstephan, a Benedictine monastery founded in 725, is considered the oldest brewery in the world, making beer since 1040. Locally, Weltenburger Kloster, in Regensburg, an hour from our house, has been brewing beer since 1050.
There are many types in each style of brewing. I prefer the dark (Dunkel) and the wheat (Weizen). While Dave joins me in enjoying the dark, he prefers the light beers to wheat, joking that he likes to eat his bread, not drink it.
So, here is a guide to the various beers in Germany.
Pale lagers
Export – a pale lager brewed around Dortmund that is fuller, maltier, and less hoppy than Pilsner.
Helles – a malty pale lager from Bavaria
Kölsch – pale, light-bodied, top-fermented beer which can only be brewed legally in the Cologne region
Maibock – a pale, strong lager brewed in the spring
Märzen – medium body, malty lagers that come in pale, amber, and dark varieties
Pilsener – a pale lager with a light body and a more prominent hop character
Dark lagers 
Altbier – a top fermented, lagered beer. It is brewed only in Düsseldorf and in the Lower Rhine region. Flavors can range from mildly bitter and hoppy to exceptionally bitter
Bock – a heavy-bodied, bitter-sweet lager that uses dark-colored malts
Doppelbock is a robust, full-bodied lager that uses dark-colored malts. As you may guess, Doppel means double.
Dunkel – a dark lager that comes in two main varieties: the sweetish, malty Munich style and the drier, hoppy Franconian style
Schwarzbier – a bottom-fermented, black lager beer
Kellerbiers are unfiltered lagers that are conditioned similarly to cask ales.
Zwickelbier was originally a sample amount of beer taken by a brewery boss from the barrel and are unfiltered lagers like Kellerbier but tend to be younger, lower in alcohol, and less hoppy than Kellerbiers.
Zoiglbier, which in the Upper Palatinate's brewing practice is advertised with a "Zoiglstern"— a six-pointed blue-and-white symbol made from wooden slats, similar to a Star of David. This is also an early tasting. One of these days, I will make it down to Amberg when the sign is out.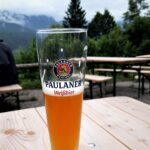 Wheat Beers
Weizenbier and Weißbier are the common German names for wheat beer – "Weizen" is German for "wheat," and "weiß" is German for "white."
Berliner Weisse – a pale, very sour wheat beer brewed in Berlin, often served with raspberry syrup.
Hefeweizen – an unfiltered wheat beer. "Hefe" is German for yeast.
Kristallweizen – a filtered wheat beer. It is characterized by a clear rather than cloudy appearance.
Weizenbock is the name for a strong beer or bock made with wheat.
Roggenbier – a fairly dark beer made with rye, somewhat grainy flavor similar to bread (Dave was right!)
No matter your tastes, there is something for everyone.
Prost! Salud! Slainte Mhath! Cheers!